Nick Bewsey, November 2014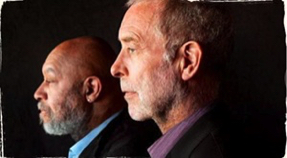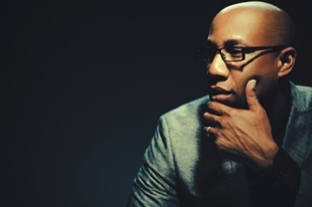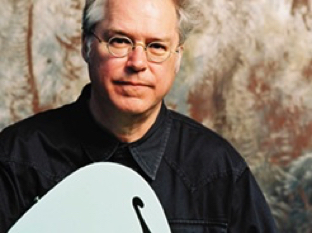 Nick Bewsey has been writing about jazz for ICON since 2004 and is a member of The Jazz Journalists Assoc. He also participates in DownBeat's Annual International Critics Poll.
Kenny Barron and Dave Holland ★★★★1/2
The Art Of Conversation
impulse!
Two superior musicians, pianist Kenny Barron and
bassist Dave Holland, have a beguiling rapport on The Art
Of Conversation, a lively and hauntingly beautiful duo
recording that elicits not only good feeling and intimate
swing, but also a profound, seemingly effortless grasp of why melody and rhythm matter. It also makes for a fun listen. Their lead track, Holland's "The Oracle," sets a tasteful mood and thrums with a breezy pulse, but each song is a lesson in tuneful improvisation and pace—Barron and Holland play as they breathe, their solos unfold as poetic cadenzas that flow with endless ideas.
 Both are distinguished leaders with long careers, born of the same generation (Barron is 71 and Holland is 69) and they smoothly weave medium tempo tunes and smoky ballads into a seductive blend on Conversation. Barron contributes three originals and Holland four, with welcome jazz standards popping up by Charlie Parker (the tricky, off-kilter "Segment") as well as Monk (the finger-popping "In Walked Bud"). Among the originals, Barron's "Seascape" has a percolating, head-bobbing flair. And there's something about Holland's swirling ballad, "In Your Arms," that's transfixing and illustrates how the bassist can be as graceful here as he is assertive on his own projects. The pair couldn't have chosen a better ending—their styles melt together on the delicate Strayhorn-Ellington ballad "Daydream," a harmonic convergence that drifts by like slow clouds in the sky. (10 tracks; 63 minutes)
Alicia Olatuja ★★★★1/2
Timeless
World Tune Records
The Brooklyn-based singer/vocalist Alicia Olatuja is a classically trained mezzo-soprano, but her heart is deeply invested in jazz and soulful pop tunes. Timeless is her refreshing, modern recording that wraps her warm friendly voice in a blanket of exceptional sound; bassist Christian McBride, pianist Christian Sands and saxophonist Jaleel Shaw each make impressive appearances. This star-turn of an album has the substance of Stevie Wonder's early records and, like him, Olatuja pins her recording with a keen assortment of styles and rhythmic moods.
Vocally, Olatuja has a salt-of-the-earth voice and genuine embrace of the lyric—she's like a rebooted Lizz Wright, but with her own sense of majesty. There's her gospel soul combined with riveting storytelling style that pours joy, heartache and optimism into spellbinding originals like "Truth In Blue" and "Speak The Words" co-written by her husband, Michael Olatuja. She crushes on the ethereal arrangement of Michael Jackson's "Human Nature," by adding a slo-mo emotional twist that takes that song into new territory. She even covers Wonder's heartfelt ballad "Stay Gold" and lifts it anew with a graceful reading amplified with arresting accompaniment by harmonica player Gregoire Maret. But Olatuja shines brightest on the dazzling samba tune "Serrado," a vocal and percussive tour-de-force. Timeless is a consistently great album. Doubtless, some singers would unravel interpreting these gorgeous, challenging songs, but Olatuja keeps the vocal somersaults under control along with her confidence. Also with pianist Jon Cowherd, guitarist David Rosenthal and drummer/producer Ulysses Owens, Jr., whose contemporary beats blend elegantly with Olatuja's brilliantly knowing voice. (10 tracks; 49 minutes)
Otis Brown III ★★★★1/2
The Thought Of You
Revive/Blue Note
Without a doubt, drummer Otis Brown III is
narrowing the divide that keeps jazz segregated from
mainstream (read: marketable) recordings. Brown's
terrific debut, The Thought Of You, is a collaborative
production from Revive Music and Blue Note and
it's a winner as fitting a release on the classic Blue
Note label as anything they released in the '60s.
The innovative drummer's facility and outsized talent was already apparent backing Joe Lovano's Us Five band, Terence Blanchard and Oliver Lake over the last few years.
The album is enjoyably entertaining and feels unselfconscious. It essentially means that his percussion and beats underpin his compositions rather than dominate. Even the gospel melody performed by Nikki Ross fuses reverence with diva soul power. There's a powerful singular drive throughout (the bass is pleasingly amped up), yet the compositions are as strong and confident as the musicians that play them—distinctive pianist Robert Glasper, trumpeter Keyon Harrold, saxophonist John Ellis and bassist Ben Williams whose tight, beefy notes steer the propulsive frontline horns on "The Way-Truth and Life." Mixing hearty originals ("Stages Of Thought" is a groove-textured wonder) with wholly unexpected covers (Shania Twain's "Still The One" is breathlessly sung by Gretchen Parlato), Brown, along with co-producer Derrick Hodge, gives The Thought Of You a kinetic energy with a jazz/pop sheen that bears witness to a promising and significant artist. (11 tracks; 56 minutes)
Bill Frisell ★★★★
Guitar In The Space Age
Okeh
Guitarist Bill Frisell, 63, is a wonderfully
restless musician. Just when you got used to his
languid, golden wheat style of Americana jazz, he
turns the tables and makes one of his finest albums.
Guitar In The Space Age initially feels like a lost
soundtrack to a David Lynch movie, especially the
way it mixes multiple guitar sounds (bass, electric
and acoustic) in an earthy, cosmic stew. It's out there,
but satisfyingly accessible that's almost too cool. He
dips into surf music with deep respect and flips that anachronistic genre into something pleasurable with current arrangements that hang tight. Pete Seeger's timeless "Turn, Turn, Turn" is lush with rhythmic twang and its revisionist melody catches you off guard. Likewise, Brian Wilson's "Surfer Girl" is inflated with juicy harmonics and a sweet backbeat. Frisell reflects on the '50s, inspired by the way he and his fellow musicians grew up and what they liked; the album's zeitgeist is all about California summers and first guitars, along with a mutual love of jazz, blues and rock. Because it all works so beautifully, Guitar is nothing short of a sonic gem with layers that peel back to reveal superb musicianship and honest grooves. (14 tracks; 55 minutes)
Kenny Shanker ★★★1/2
Action City
Posi-tone
This album from New York-based saxophonist Kenny Shankar, is the kind of unpretentious straight-ahead jazz that goes down easy. Shanker's strong, all-original set hearkens back to the Prestige-era's classic quintets—tight melodies and urbane solos are the rule here and it's a fine combination. Action City is highlighted by "Times Square," defined by its strong melody and Jazz Crusaders-style groove. "Another Morning" pops with an astute sense of swing, while "Summer Siesta" clicks with a breezy flavor. The band works well together, but pianist Mike Eckroth is a dazzler in the tradition of a young Hank Jones or Tommy Flanagan, and together Shanker and he make these tunes bounce. Stick around for the enticing ballad, "Riverbank At Dawn," and the closer, "Snow Paws"—its pop contours fade away to reveal Shanker's gift at composing music that's sure to make your day. (12 tracks; 55 minutes)